Vomitoxin in the Corn: Call your agent or office immediately if you discover vitomoxin in your corn. If hauling directly to town, be sure to have the elevator hold a sample if the load has vomitoxin with level 5.1 parts per million or higher. A notice of loss must be submitted to be eligible for a quality loss. Elevator samples must be picked up by an adjuster.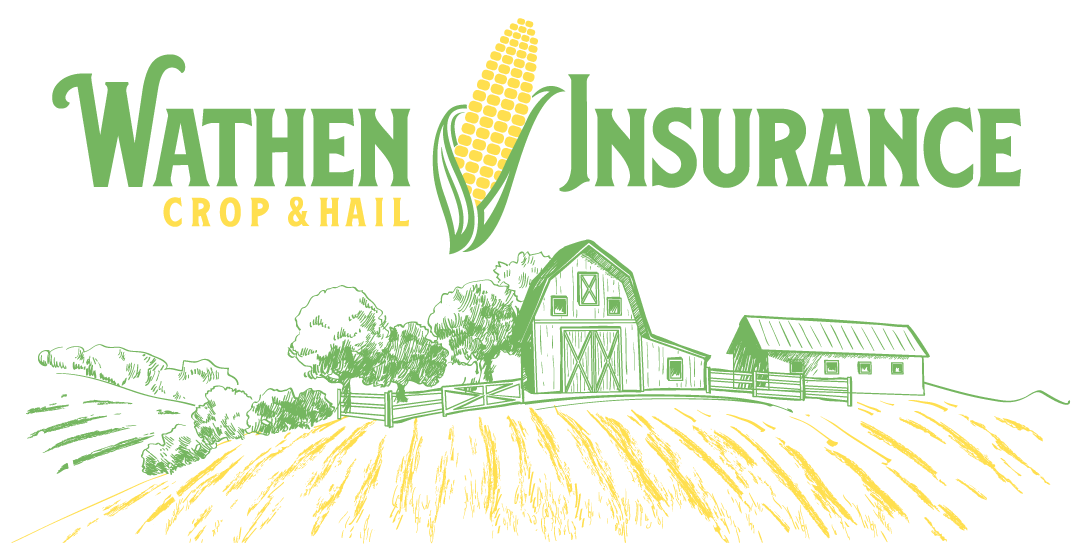 As your Indiana lawmakers put together a budget bill to fund the state for the next two years, that bill in its current form may end up having a negative impact on ag education in Indiana's high schools. Indiana Senate recently revised House Bill 1001 to eliminate that funding previously set aside for Career Technical Education (CTE) continue to be used for that purpose in Indiana's schools. That funding also included ag education.
Highlights
Indiana's House Bill 1001 revision could remove funding for Career Technical Education (CTE) and ag education in Indiana's schools.
This could lead to reduced funding for ag education, affecting the development of skilled workers in Indiana's agriculture industry.
The change could also negatively affect Indiana FFA, making it crucial to restore CTE funding to support the state's agriculture and technical job opportunities.
The PACE program provides insurance for conservation-minded corn farmers who split-apply nitrogen fertilizer. The Post-Application Coverage Endorsement is the latest result of the RMA's recent efforts to reward conservation and sustainable farming among American producers.
Highlights
The PACE sales closing date is March 15.
Provides protection for farmers who split-apply nitrogen and are unable to make in-season applications.
Split-applying nitrogen helps conserve natural resources and saves farmers money.
ERP Phase Two Highlights
What's Covered: ERP Phase Two payments cover crop losses to crops, trees, bushes, and vines for commodity and specialty crop producers affected by natural disasters including wildfires, droughts, hurricanes, winter storms, and more during eligible calendar years.
How Payments are Calculated: Phase Two payments target producers not included in Phase One payments, who had production and quality losses that resulted in a decrease in gross revenue. This, taken into account with other federal program payments, determines up to a maximum initial payment of $2,000.
Eligibility: Eligible producers must have suffered a loss of an eligible crop due to a qualifying disaster event that occurred in the 2020 or 2021 calendar year and resulted in a decrease of allowable gross revenue.
Applications: FSA is accepting applications for ERP Phase Two now through June 2, 2023. Refer your customers to their FSA county office for next steps.
USDA Disaster Program Resources
We know it has been a wet spring, and with that thought in mind, we wanted to provide the answers for our clients to some frequently asked questions regarding crops with prevented planting coverage.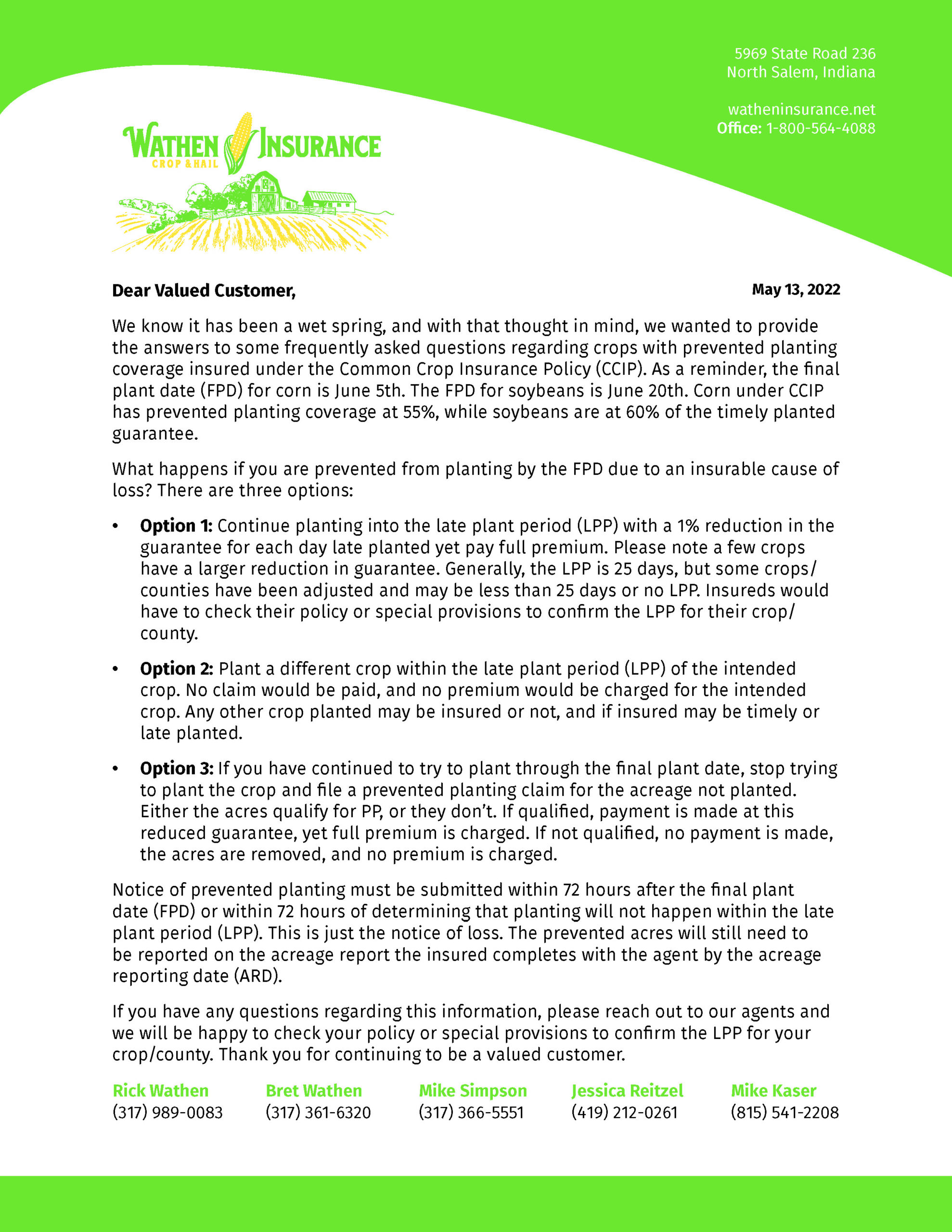 I'd like to get some value out of those PP acres. I'll at least have to do something to control weeds. What actions can I take or what other crops can I plant on the PP acreage?
There are pretty strict limitations on PP acreage as far as trying to get other value out of those acres. If you want to preserve your full PP payment, it's black dirt or cover crop only.

If you plant a second crop during the LPP of the PP crop there is NO PP payment.

If you plant a second crop after the LPP of the PP crop, the PP payment is reduced to 35% of what it would have been. Exceptions to this rule may apply for producers in a double crop area, who have a history of double cropping.
Can I plant a cover crop on the PP acres?
Cover crops may be planted and may be hayed, grazed, cut for silage, haylage, or baleage at any time without impacting the PP payment. However, cover crops cannot be harvested for grain or seed without impacting any potential PP payment. Please note that Corn will not be considered a cover crop on PP acreage. See table below to see how cover crops or volunteer crops may impact PP payments.
Can I rent my PP acreage to my neighbor who wants to plant a cover crop to hay/graze/cut for silage, haylage, or baleage?
Yes. Beginning with 2022 spring crops, it's now okay to rent to your neighbor for those purposes. Keep in mind, though, that they cannot harvest for grain or seed without impacting any PP payment.
Will my APH database be impacted when I claim and qualify for a PP payment?
The APH database will suffer a yield reduction, but only on acreage where the payment was reduced to 35% because a second crop was planted. Those are the only PP acres that will show in the database and the yield they receive is 60% of the approved yield. PP acreage paid at 100% of the PP guarantee does not impact the APH database at all.
Join the monthly webinar for insider ADM marketing insights on the 4th Tuesday of every month and an opportunity for Question & Answer with ADM Crop Risk Specialists.
Farmers and ranchers are facing widespread drought conditions in many parts of the country, causing catastrophic damage to crops. The USDA Risk Management Agency (RMA) has announced flexibilities to help farmers through these challenging times. Farmers Mutual Hail...
As your Indiana lawmakers put together a budget bill to fund the state for the next two years, that bill in its current form may end up having a negative impact on ag education in Indiana's high schools. Indiana Senate recently revised House Bill 1001 to eliminate...
2022 updates coming soon!
Wathen Insurance was started in the fall of 1982 by Tom and Joyce Wathen. While running a corn and soybean farming operation themselves, the opportunity to help other producers with their risk management decisions was very intriguing and appealing to Tom and Joyce. With a great deal of Passion and genuine interest in their policyholders the Wathen agency grew beyond their expectations, which provided the next generation of the Wathen's an opportunity to join the business.
Keeping the business in the family provides for excellent quality control while affording attention to detail. We look forward to providing personalized service for our customers in the pursuit of continued success and who knows maybe our next generation will build upon what we started. Thanking you all for our continued success and wishing you a most prosperous year!
Wathen Insurance
5969 State Road 236
North Salem, Indiana
(800) 564-4088
Office Hours
MON – FRI
8 am – 5 pm
SAT – SUN
CLOSED
Drop Us a Line
Don't be shy. Let us know if you have any questions!